HORNBY 0-6-0T Somerset & Dorset Joint Railway Class 3F Jinty Locomotive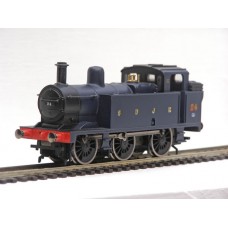 Price: AU$139.00
Ex Tax: AU$139.00
HORNBY

Somerset & Dorset Joint Railway 0-6-0T Class 3F Jinty Locomotive
Taken from a set this Brand New Loco does not have a box
The Somerset & Dorset Joint Railway – almost always referred to as "the S&D" – was a beautifully scenic English railway line connecting Bath in North East Somerset and Bournemouth in South East Dorset. It was never a high speed line: its winter business was carrying freight and local passenger traffic over the Mendips, but in the summer season the S&D came into its own, carrying a heavy service of Saturday holiday trains from northern towns to Bournemouth. It was often referred to as "the Slow and Dirty" or sometimes "the Slow and Doubtful".
It always commanded a considerable loyalty from railway enthusiasts, and when it closed in 1966 it was widely mourned.
Its attractions were its quirky individuality, its fascinating and varied scenery, and the way it seemed to struggle against overwhelming odds. Its main line climbed to 811 feet (247 m) above sea level at Masbury, and it contained several single line sections, but on summer Saturdays it managed to handle a considerable volume of holiday trains, when it seemed every possible locomotive was drafted into service to handle heavy trains requiring double-heading and rear assistance over the steep gradients.
Work has now started to restore some remnants of the S&DJR to working condition.
This is a splendid and very nicely detailed locomotive. Very few Hornby Locomotives are based on the smaller, regional railway networks (such as the S&DJR) so this loco will add Charm and Romance to your Model Railway.
Scale
OO Scale
Gauge
OO/HO Gauge
Power
Analogue
Write a review
Your Name:
Your Review:
Note: HTML is not translated!
Rating:
Bad
Good
Enter the code in the box below: