HORNBY Sheffield Pullman Train Set DCC Ready R1135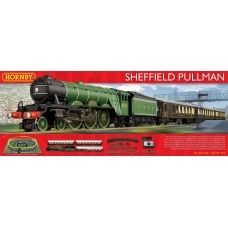 Price: AU$699.00
Ex Tax: AU$699.00
HORNBY
Sheffield Pullman Train Set
DCC Ready
R1135

This superb Train Set is inspired by the very popular but short lived train of the same name which first went into service in 1924. This well equipped train with its luxurious Pullman Cars would carry businessmen on a week day basis between London, Kings Cross and South Yorkshire. This Hornby Train Set recreates those wonderful opulent days of train travel and feature the Nigel Gresley designed Class A1 Doncaster Locomotive in the LNER Apple Green Livery of the period and three superb Pullman Cars. The Pullman Cars were the epitome of style and elegance in train travel. The set comes with an oval of track with a siding and a Hornby TrakMat. With the addition of Hornby Track and Building Packs the layout will quickly become a model railway befitting such an elegant train.
The 'Doncaster' A1 Locomotive entered service in August 1924, was rebuilt in May 1946, and was not withdrawn from service until September 1963.

Class A1 locomotives were designed under the guidance of Sir Nigel Gresley, Chief Mechanical Engineer for the Great Northern Railway (GNR), later to become London North Eastern Railway (LNER). The class comprised a total of 52-members, all built at Doncaster Locomotive Works. One member of the class, "Flying Scotsman", is the world's most famous locomotive.
This set contains the Hornby Starter Oval Track plus Extension Pack A - providing a good layout with a siding (look at the pictures to see what this Set provides). Further Track Packs xcan be added when you wish to extend the layout.
Contents
* LNER Class A1 4-6-2 'Doncaster' Locomotive (DCC Ready)
* Three x LNER Pulman Coaches
* Starter Oval with Track Pack A (with one point and a buffer stop)
* Wall Plug Transformer (P9200)
* Train Controller (R8250)
* Power Track (R8206)
* Hornby MidiMat (1600 x 1280mm)
NOTE: This Train Set comes straight from Hornby in the UK so has UK plugs on the Transformer. A UK to Australian plug adapter is required. These are available on this site for $12.00 - or for the same price from Bunnings or K-Mart.
Write a review
Your Name:
Your Review:
Note: HTML is not translated!
Rating:
Bad
Good
Enter the code in the box below: