SCALEXTRIC Powerbase Track and Two Dynamic Braking Hand Throttles C8229 + C8230 One Red & One Blue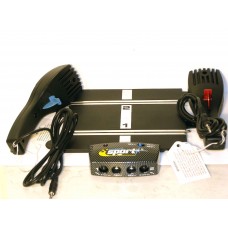 Product Code:
C8229 C8230
Availability:
10
Price: AU$24.99
Ex Tax: AU$24.99
SCALEXTRIC
SPORT STARTING LINE POWERBASE TRACK
and
TWO x 60 ohm
Dynamic Braking Hand Throttles
C8229 + C8230
One Red & One Blue
(These items are Unboxed)
Enjoy Superb Control and Handling as you Race your Cars with these Dynamic Braking
Hand Throttles.
The dynamic brake throttles have significant advantages over standard throttles. Firstly, they are more responsive. This means your cars will start moving with less depression of the throttle. Because of this they give greater control at a greater range of speeds - ie not just 'go & stop' like so many other throttles. Secondly, and most importantly, when you release or ease off the trigger they will slow your car down much quicker. The advantage of this is that you can race your cars faster and harder into corners, then 'brake' later and have better control as the cars slow down much quicker than with standard controllers. The longer the straight or the faster you go into corners the more noticeable this effect is. This will give you faster and more exciting racing action!!!!
Plug your Dynamic Braking Throttles into this Powerbase Track for Sensational Scalextric Racing action.
(I am also able to supply transformers to plug into the Powerbase Track if required).
Write a review
Your Name:
Your Review:
Note: HTML is not translated!
Rating:
Bad
Good
Enter the code in the box below: