AIRFIX BAC AEROSPATIALE CONCORDE - British Airways Version. 06182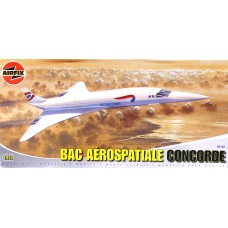 Brand:
Airfix
Product Code:
06182
Availability:
1
Price: AU$99.99
Ex Tax: AU$99.99
AIRFIX

BAC AEROSPATIALE
CONCORDE
British Airways Version
06182

This MAGNIFICENT Model of the famous CONCORDE is 425mm long and 180mm wide.

Scale 1:144

The CONCORDE was a passenger airliner designed to fly at twice the speed of sound (Mach 2.05). First flown in 1969, the Concorde service commenced in 1976 and continued for 27 years. It regularly flew from london to New York and Washington.
The CONCORDE set many aviation records, including circumnavigating the world in the time of only 31 hours, 27 minutes and 49 seconds on 16 August 1995.
CONCORDE had an average cruise speed of Mach 2.02 - about 2,140 kmh with a maximum cruise altitude of 60,000 feet.

Bring this piece of Aviation History to Life!!!!
Write a review
Your Name:
Your Review:
Note: HTML is not translated!
Rating:
Bad
Good
Enter the code in the box below: