AIRFIX LOCKHEED SUPER CONSTELLATION 08008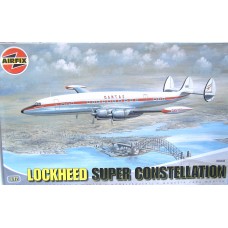 Brand:
Airfix
Product Code:
08008
Availability:
Out Of Stock
Price: AU$129.99
Ex Tax: AU$129.99
AIRFIX

LOCKHEED
SUPER CONSTELLATION
With Transfers for QANTAS, Australian Restored Aircraft or AER Lingus Versions
08008

This MAGNIFICENT Model of the famous SUPER CONSTELLATION is 403mm long and 521mm wide.

Scale 1:72

Simply known as the 'Connie', the four-engined Super Constellation was one of the first trans-Atlantic airliners of the post war period. To meet the increasing demand for air transport across large distances in comfort, this extended version of the original Constellation could carry 71 passengers in First Class or 95 in Economy. Its 500 kmh speed was markedly faster than its competitiors could achieve at the time, and by using more efficient engines and larger fuel tanks it could cross the pacific with fewer stops. The Super Constellation heralded a whole new era in passenger flying.

Bring this piece of Aviation History to Life!!!!
Write a review
Your Name:
Your Review:
Note: HTML is not translated!
Rating:
Bad
Good
Enter the code in the box below: