AIRFIX PANAVIA TORNADO GR1 04027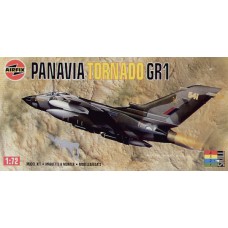 Brand:
Airfix
Product Code:
04027
Availability:
2
Price: AU$89.99
Ex Tax: AU$89.99
AIRFIX

PANAVIA TORNADO GR1
04027

This Model of the Multi Role Combat Aircraft (MRCA) built by Britain, Germany and Italy is 232mm long and 193mm wide.
Scale 1:72

The Panavia Tornado is a family of twin engine, variable sweep-wing combat aircraft jointly developed and manufactured by the UK, West Germany and Italy. There are three primary Tornados: the Tornado IDS (interdictor strike fighter-bomber); the suppression of enemy air defences Tornado ECR (electronic combat/reconnaissance) and the Tornado ADV (air defence variant) interceptor.
The Tornado first flew on 14 August 1974 and was introduced into service in 1979–1980. The Tornado was used by the RAF, the Italian Air Force and the Royal Saudi Air Force during the 1991 Gulf War, in which the Tornado conducted many low-altitude penetrating strike missions. The Tornados of various operators were also used in conflicts in the former Yugoslavia during the Bosnian War and Kosovo War, the Iraq War. Including all variants, a total of 992 aircraft were built.
Write a review
Your Name:
Your Review:
Note: HTML is not translated!
Rating:
Bad
Good
Enter the code in the box below: