HORNBY RAKE of THREE PULLMAN PARLOUR and BRAKE COACHES 'MINERVA', 'AGATHA' & BRAKE 'CAR No.92'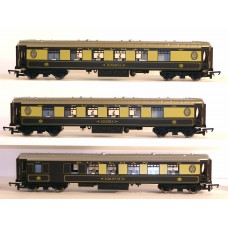 Price: AU$349.00
Ex Tax: AU$349.00
HORNBY
RAKE of THREE PULLMAN PARLOUR and BRAKE COACHES
'MINERVA', 'AGATHA' & BRAKE 'CAR No.92'

These Exquisite Coaches have been taken from the Hornby R3093 Tornado Pullman Pack so they come UNBOXED. They are each magnificently detailed with set dining tables and table lamps.
Pullman coaches were the pinnacle of opulence and luxury in rail travel. The Pullman trains always operated with first-class coaches and a steward service. Originally conceived as "Palaces on Wheels" by George Mortimer Pullman, each coach was lavishly appointed and represented the epitome of the Golden Age of Rail travel. The coaches boasted intricate marquetry, inlaid mosaic floors, sparkling crystal and beautiful Art Deco designs. The seats were deeply upholstered armchairs in which affluent travellers enjoyed exquisite dining and sipped champagne on the world's great romantic train trips from London to the Channel Ports as well as the famous Venice-Simplon Orient Express.
Each of the coaches were individually named and have their own unique character and history. Many of the Pullman carriages have survived into the modern era and are the prized posessions of many of the world's finest rail, accomodation or dining experiences.
One of the coaches in this set is 'Minerva' whose pedigree reads as follows:
Type: First Class Parlour Car
Seats: 26
Built: In 1927 by the Midland Railway Carriage and Wagon Co. Ltd.
History: Part of the famous and magnificent Devon Belle Train from 1947-1951. It was also used in the special Festival of Britain rake in 1951. It was pulled by the famous 'Golden Arrow' locomotive from 1951-1961.
Decoration: Edwardian-type marquetry
Re-live the 'Golden Age of Steam' when the romance of the railways was at its peak as exquisite coaches such as these Superb and Luxurious Pullman Coaches graced the English Countryside.
Scale
OO Scale
Gauge
OO/HO Gauge
Write a review
Your Name:
Your Review:
Note: HTML is not translated!
Rating:
Bad
Good
Enter the code in the box below: